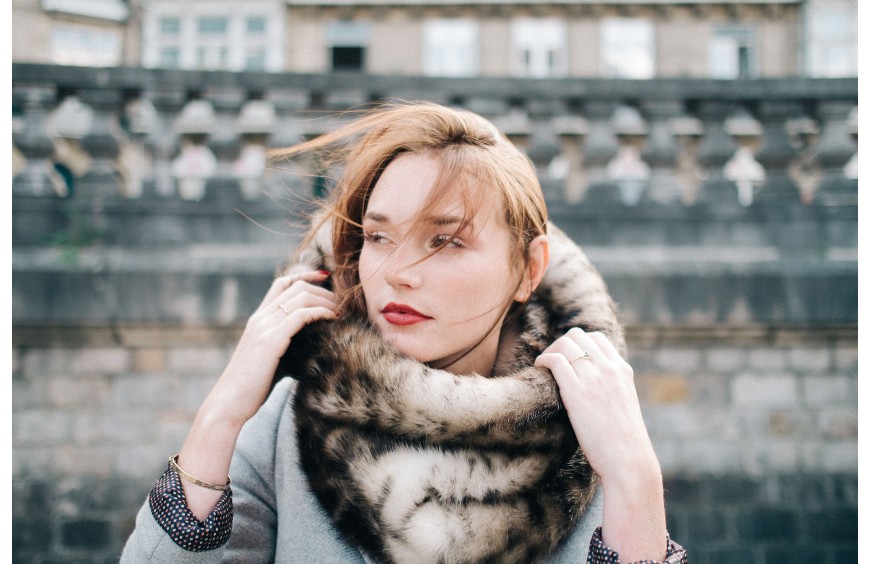 Made in France fashion, cruelty free and labelled Fur Free Retailer
Aline Nivesse is a fashion designer from Lille. Committed into an ethical fashion since her young age, she obtained Fur Free Retailer label, managed by One Voice in France. Aline's fashion, it's fashion required level but cruelty free, with fake fur, mould with grace and modernity. Meeting.
When did you start working in fashion world ? 


Since forever. I studied in ESMOD, I am a part of 2009 promo. I launched my brand 7 years ago and I specialized in fake fur. 
I care a lot about animal causes, I am against real fur. During my study, I had a project, a drawing, in fake fur. The headmaster told me that he needed to see it in real otherwise it look like it's cheap, ugly etc. I got in touch with a supplier who gave me a high quality fake fur. In that exact moment I found my first supplier. The Fake fur was shiny, warm, soft.. Now I have several suppliers, mostly from England, and one in France. Quality is never lacking.
The headmaster accepted that the result was there. I don't think he changed his mind, it only result in increasing my belief.
I created my company firstly about accessories. In the beginning for animals, then I extended. Now, I create and produce accessories for women and clothes as well.
Why did you ask to have "fur free retailer" label ? 
To reassure my customers. Even if it's written, a label add more security, quality control. Furthermore, I know One Voice since the beginning, I am a donator since I am 8 ! I received for the occasion a handwritten letter from Muriel Arnal to thank me, I still have it ! 
I am selling my items online, I also send a feedback form. Are you aware of animal cause and fake fur ? A quarter doesn't mind but 3/4 are aware. A lot of people think it's forbidden, yet it's not the case ! On exhibition, plenty of people tell me that they are committed to animal cause, yet they have a real fur collar no their coat during winter. During Christmas time, it's obvious for a few years. There is a real problem of labelling and information. This is why the label is so important for me, to provide more guarantee to my customers, while sensibilising others.
What are the accessories and clothes you are selling ? Which one are the best sellers ?
" Snood " collar : tube collar we put through the head, or the larger version we can put like a hood, chapka, muff for a classic and retro touch. Capes and poncho are also great products. Large cardigans will be my next creations. in addition to key ring and other small accessories I am still selling.
In exhibition, I can see differents types of customers, depending on their incomes, their ethic about fur farming aren't the same. More incomes they have the less they mind wearing real fur. We need to sensibilise a lot in this class. Fake fur is high quality and sometimes softer than real one ! 
I have items which are rabbit, minks imitation and forbidden ones like lynx or snow leopard, people can't find them anywhere else ! Others are coloured, it allows georgeous diverse tones to work with and wear. 
To discover Aline's Fashion, don't hesitate to consult one Voice's website !
Jessica Lefèvre-Grave